---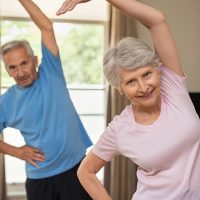 Category: Season 5
Jeff Conforti, PT, DPT & Tina Stroh BA, e-ryt 500
Dr. Jeff Conforti is the Director of Physical Therapy at Conforti Physical Therapy. Jeff has nearly 30 years of diverse experience in the fields of physical therapy and fitness.
Tina Stroh has been a student and teacher of yoga for over 30 years. She has completed numerous yoga teacher trainings and workshops and is the founder and co-owner of her own yoga studio.
Yoga may be an effective part of the treatment for osteoporosis. Practicing yoga poses for as little as ten minutes a day can increase bone density. Done regularly, yoga is a great way to help improve your strength, flexibility, balance, coordination, endurance, muscle mass, agility, and energy level. Learn some basic moves to get you started! Remember, if you can breathe, you can do yoga!
Additional Resources: