---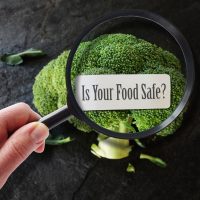 Category: Season 8
Tags: cooking, health, science
Sharon McDonald, MEd, RD, LDN
Sharon currently serves as an Extension Educator and Food Safety Specialist based at University Park. She holds a bachelor's degree in nutrition and a master's degree in education from the Pennsylvania State University. She is a registered dietitian with the Academy of Nutrition and Dietetics and a licensed dietitian in the state of Pennsylvania.
Stacy Reed, MS
Stacy is an educator at Penn State Extension Lancaster County. She has a bachelor's degree in Food Science and Nutrition Science and a master's degree in Food Science from The Pennsylvania State University. Her job focuses on providing health and wellness and food safety education and technical support, outreach, and programming.
Are you at risk for food poisoning? Do you want to learn the keys to preventing foodborne illness? Don't get "Bugged" in the Kitchen addresses food safety in your home. We'll look at keeping food safe from purchase to preparation and beyond and places where problems may occur. Even if you have been preparing food your whole life and never gotten sick, it only takes one small misstep for a problem to occur!
Additional Resources: