---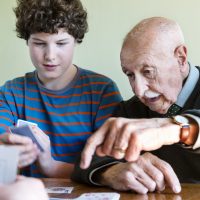 Category: Season 9
Tags: cooking, family, history, society
Matthew Kaplan, Extension Educator
Professor Kaplan is a prominent leader in the intergenerational studies field, conducting research, developing curricular resources, and providing leadership and guidance in the development and evaluation of intergenerational programs in the U.S. and internationally.
Darlene Sansone, Extension Educator
Darlene is an PennState Extension Educator based in Lawrence County, PA. She works in the Food, Families, and Health unit and provides community-based educational programs related to Family Strengths, Early Childhood, Parenting Education for custody, divorce and truancy, Strengthening Families, Better Kid Care, and the Relatives as Parents (RAPP) program.
Learn the benefits of engaging in family bonding activities. We will also discuss cooking, having meals together, playing games, watching movies, and other activities that promote family closeness. Family Bonding can reduce stress, create positive relationships, and generate lasting memories for the entire family. Learn creative ways grandfamilies can make new family traditions and ways of being, learning, and growing together.
Additional Resources: