---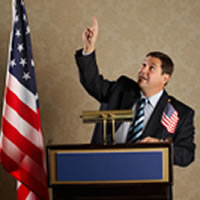 Category: Season 2
Jeffrey W. Robbins, Ph.D.
Lebanon Valley College
In the late 1960s Jerry Falwell promoted that preachers had no business in political affairs. By the 1980s, he was a political proponent for the Evangelical Right. In 1960, John F. Kennedy said, "I believe in an America where the separation of church and state is absolute." During the 2012 Presidential Campaign, candidates spoke of the necessary interrelationship between religion and politics. Dr. Robbins discusses how the idea of the post-secular helps to make sense of current struggles for power throughout the world.
Dr. Robbins is a co-editor of the Columbia University Press book series "Insurrections: Critical Studies in Religion, Politics, and Culture," Chair of Religion & Philosophy; Professor of Religion; and Director of American Studies at Lebanon Valley College.