---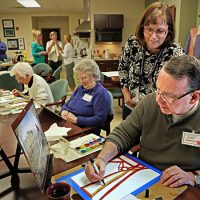 Category: Season 3
Barbara C. Warfel
Artist/Art Educator
Transforming Alzheimer's with Art
Art is an amazing way to express yourself. It is also an amazing way to fuel brain activity in those affected by Alzheimer's disease.
Neuroscientists are exploring evidence that artistic expression stimulates growth of new brain cells and creation of new neuron networks in the cerebral cortex. Experience with seniors affected by Alzheimer's has been very positive when correlated with art. "I have trouble getting participants to stop when art time is up." "The fastest hour of the week" is often heard when art class ends. Art activity removes them, if only for a brief time, from an often frustrating and painful world by completely occupying their minds and intellect.
---
Barbara C. Warfel will guide you through how Alzheimer's can be positively affected by art. She is a graduate of Rowan University, Glassboro, NJ, with a B.A. in Art Education. She first developed and implemented meaningful art activities for senior adults residing in assisted living facilities in 1998. She has received many awards for her work, including the 2006 Spectrum Award for Excellence in the Arts.