---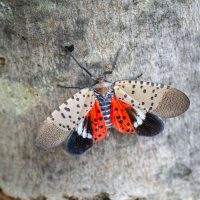 Category: Season 9
Tags: environment
Emelie Swackhamer, Extension Educator
Emelie Swackhamer has served as a horticulture educator with Penn State Extension for 27 years. Penn State Extension provides research-based information to help people solve real world problems. Emelie mostly works with landscapers and ornamental plant growers but tries to help anyone with a question about growing plants. She has been on the educational front line of the local spotted lanternfly invasion since its discovery in 2014. This talk will describe the life cycle of the insect, the impact it is having on trees, crops and landscapes, and a variety of management options.
The spotted lanternfly (Lycorma delicatula) is a pest of grapes, walnuts and other trees and is a nuisance in
residential landscapes. This talk focuses on the biology, behavior, and management of this insect. You will
hear about regulations in place to slow the spread, and some of the research that is taking place.
Additional Resources: