---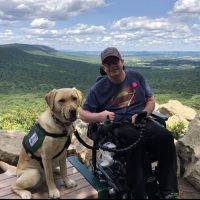 Category: Season 7
Deb Tack, Susquehanna Service Dogs, Executive Director
Deb ensures that SSD's mission to increase the independence of those in our community and surrounding area by training and placing highly skilled service dogs is met with the highest of standards. With SSD's staff of 12 and over 325 volunteers by her side, she loves being a part of helping dogs change lives.
Kelsey Parsons, Susquehanna Service Dogs, Service Dog Training Director
Among many other responsibilities, Kelsey oversees SSD's advanced training program – training advanced tasks, assisting in matching dogs with partners on our waiting list, and ensuring SSD's service dogs meet the standards set by Assistance Dogs International. Kelsey graduated from the Karen Pryor Academy (KPA) and is a KPA Certified Training Partner. Kelsey is also an SSD volunteer puppy raiser.
Assistance dogs give people the confidence to live more independently and do things they didn't think were possible. Susquehanna Service Dogs raises, trains, and places service dogs and hearing dogs, as well as facility dogs to assist children and adults with disability to become more independent. Learn about what goes into training dogs to assist their partners to live full, rich, meaningful lives.