---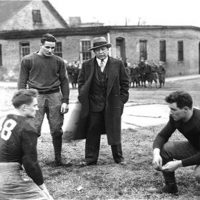 Category: Season 3
Steve Sassaman
The Pottsville Maroons were an American football team based in Pottsville, Pennsylvania. Founded in 1920, they played in the National Football League (NFL) from 1925 to 1928. In 1929 they relocated to Boston, where they played one season as the Boston Bulldogs.
Originally known as the Pottsville Eleven, the team was initially an independent team playing in the local eastern Pennsylvania circuit. Home games were played at Minersville Park, a high school stadium in nearby Minersville. They joined the local Anthracite League in 1924, the same year they adopted the "Maroons" nickname, and clinched the league title. The next season they joined the NFL under owner John G. Streigel. Though dominant on the field, a controversial suspension cost them the 1925 NFL Championship. They were reinstated the following year, but after two successive losing seasons in 1927 and 1928, Streigel sold the Maroons to a group in Boston, where they played one season before folding.
1925 was their best season. The 1928 roster included three future Pro Football Hall of Fame members – Johnny "Blood" McNally, Walt Kiesling, and coach Wilbur "Pete" Henry – but posted the worst record in franchise history. Writer John O'Hara, who would go on to become a world-famous novelist with Appointment in Samarra, covered the team for the local newspaper.