---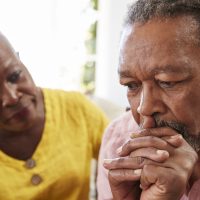 Category: Season 8
Lynn James, MS, RDN, LDN, Senior Extension Educator with Penn State Extension
Lynn James provides educational programs for organizations and the community on improving nutrition, health, and
food safety. Her program focus is community nutrition research and program development in food and culture, family
chronic disease prevention, Type 2 Diabetes, and food safety.
Sara Murphy, Vice President for Programs and Services for the Greater PA Chapter of the Alzheimer's Association
Sara Murphy has a BS in nutrition/wellness, and experience in intergenerational programming and her certificate in
gerontology. Sara has worked in the long-term care industry with all levels of care from independent living residents to
memory care prior to her work with the Association.
Alzheimer's and other dementias cause memory, thinking, and behavior problems that interfere with daily living. This program will help you to recognize common signs of Alzheimer's and other dementias, learn about typical age-related changes. You'll also receive tips on how to approach someone about memory concerns.
Additional Resources: