---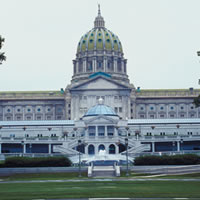 Category: Season 1
Tags: history
Kenneth C. Wolensky, Ph.D.
Historian, Author and Biographer
In the 20th century, many Pennsylvania politicians gained national recognition. Gifford Pinchot was the first Chief of the United States Forest Service and his wife Cornelia was a three-time candidate for U.S. Congress; Governor Bill Scranton served as United States Ambassador to the United Nations and his mother, Marion Margery Scranton played key roles in national Republican Party politics; Governor Robert P. Casey became nationally known for his pro-life view, and; Governor Tom Ridge became the first United States Secretary of Homeland Security. Dr. Wolensky will explore the biographies of these and other well-known 20th century Pennsylvania politicians.
Dr. Ken Wolensky is a published writer and historian. He is President of The Pennsylvania Historical Association.